Every year Phuket is developing more and more for Tourism purposes. Furthermore it has become a popular destination for families with its many attractions especially for the younger ones. Finally the boring beach times are over. Here is the list with the most fun things to do:
Phuket's Trickeye Museum is an interactive 3D painting exhibition offering amazing photo opportunities and great fun for the whole family. Located on the corner of Montri and Phang Nga roads in a large two-story building, it features a gallery of about 100 painted and sculpted scenes using trompe-l'oeil (French for 'deceive the eye') techniques, placing visitors in hilarious unreal world-like situations.
Phuket's FantaSea not only showcases the charm and beauty of Thailand, but also enriches ancient Thai traditions with the wonder of cutting edge technology and special effects. If your idea of a fun night out is to be entertained by acrobats, comedians, performing animals and a phantasmagorical staged show, then FantaSea is for you. Great choices of different catering possibilities are available for your perfect night out.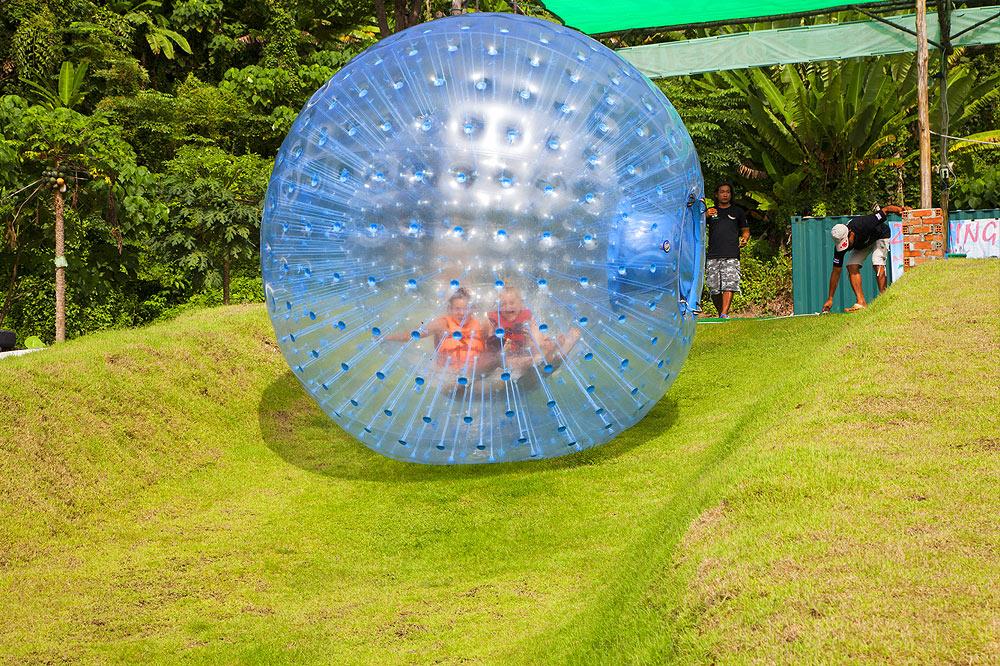 Zorbing is a fun activity for the whole family. Located on the hills overlooking Kalim Beach, participants at Zorbing at Rollerball descend a 190m hill track inside a three-meter diameter flexible plastic ball. Hill rolling (the official name of this activity) was invented in New Zealand by David and Andrew Akers.
Surf House Phuket is every surfer's dream: a place where you can ride the waves every day no matter what the weather conditions are. It offers a great choice of drinks and food to accompany your perfect ride no matter what time of the day. Surfs UP!
Beginner surfers hold onto a guiding safety rope held by a staff member and, if they happen to fall or slip, instead of falling downwards the strong water flow ensures they fall upwards!
An inflated divider dissects the 'pool' and this is easily removed so that more experienced surfer dudes can perform their tricks with freer space. This really is for all ages from children to adults. It is said that the inventor of this concept still regularly surfs on it at the tender age of 90!
Located on the Bypass Road on the northern outskirts of Phuket Town, Baan Teelanka features no less than three exciting attractions/activities to entertain the whole family. Baan Teelanka itself is a three-story house built leaning on its roof. It is adorned with a maze-shaped garden in its backyard. The Chamber of Secrets @Baan Teelanka is the third activity that could be enjoyed here, with two rooms from which visitors have to escape from by finding clues and resolving puzzles in a way to open the doors
Splash Jungle Waterpark covers 6,400sqm of land. Located inside Centara West Sands Resort on Mai Khao Beach, this attraction was designed by the Canadian company Whitewater Industries. Splash Jungle Waterpark features numerous waterslides as well as a 335-metre 'Lazy River', 'Boomerango' rides and a spectacular wave pool. Can be very crowded during high season so it's advised to arrive early in the morning.
Anthem Wake Park is the latest addition to the water sports scene on Phuket. Located in a green leafy natural area between the Phuket Heroines monument and Cherng Talay village, Anthem offers no less than three cable options on a 50,000sqm lake. Surrounded by trees and vegetation, this freshwater lake offers an excellent quality of water as it comes from the surrounding hills and is constantly renewed. Environmentally friendly, Anthem Wake Park uses zero carbon emission 'Sesitec' electric cables.
Opened in January 2013, Anthem Wake Park already has a well-thought-out plan for the years to come.
This Venue is a great opportunity for families and friends to enjoy a game of mini golf in a prehistoric setting at Dino Park in Kata Beach. The mini golf course comprises 18 holes and features life-size replicas of prehistoric creatures. Each hole blends with a theme and offers a different view of the ancient world.
Over 30 tanks bursting with freshwater and saltwater creatures give smaller visitors lots to reasons to point and say, "Mom, look!" The fascinating weirdness of the undersea world cannot be overstated: cuttlefish hover like spaceships, razorfish look like sinking sticks, and the so-ugly-you-can't-help-staring stonefish could go by no other name are just a few highlights to mention here. Located at Panwa area a day out to this popular tourist destination can't be missed due its fun combining educational purpose.
The Patong Go-kart Speedway is open every day from 10:00 to 19:00. Pit your driving skills on a challenging racing track as you zoom around the course. Single and double karts plus helmets are available and there are floodlights for evening races. The track has a car park, restaurant and seating area for spectator's right located on edge of Patong Hill.